What have I been doing during the Corona lockdown? Cooking myself through this time with delicious dishes from my travels and baking countless focaccia breads.
Making an Italian focaccia at home is so much easier than I expected. In fact it's harder for me to remember the right spelling and I wrote it wrong so often already. The dough is similar to that of a pizza and needs only a few ingredients that I always have in my kitchen anyways.
It's a perfect side dish or snack BBQs. So whenever you're invited to one, bring this focaccia and you'll be the hero of the party. True story, this recipe is approved by my family and friends.
My fiancé always asks me if I could bake a new one when we're about to finish one of my focaccia breads. This is the biggest compliment to me.
After working out the master recipe for the focaccia base, I played around with various toppings. This is the fun part where you can let your creativity flow. You can decorate it with olives, onions, tomatoes and other herbs or whatever else you can think of. The most impressive one and my absolute favorite was the poppy flower focaccia garden that I created with red pepper, clive stems and poppy seeds.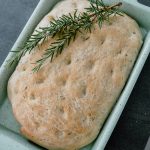 Easy & Fluffy Italian Focaccia Bread
A fluffly and soft foccacia bread that is easy to make. It's not only a delicous side dish for a tomato and mozarella salad or BBQ but also tasty on its own. Dip it in olive oil with a bit of sea salt and enjoy a piece of Italy at home
Ingredients
Dough
300

ml

lukewarm water

7

g

dried yeast

or 21g fresh yeast (½ of a cube)

3

teaspoons

salt

4

tablespoons

olive oil

500

g

wheat flour type 00

8

rosemary stems

(leave it out or replace with tyme or other herbs that you like)
Instructions
Mix flour and yeast together in a bowl. Then add all other ingredients for the dough.

Use a mixer with a dough hook or your hands to knead the dough for around 8 minutes until you have a smooth and soft dough.

Oil a clean bowl with olive oil and place the dough into it. Turn the dough a few times so that it is fully covered in oil. Cover the bowl and place it in a warm place for about an hour until the dough has doubled. It's handy to use a glass bowl to see and check the volumen of the dough.

Brush a baking tray (approx. 32cm x 19cm) with olive oil. Place the risen dough on the tray and spread it gently so that it is evenly distributed. It's not a problem if the baking tray is too big so that the dough doesn't fully cover it.

To get the typical foccacia structure, press you're fingertips into the dough

Cover the dough with olive oil and let it rise again for around 30 minutes. The oil protects the dough from drying so it doesn't have to be covered this time.

Preaheat the oven to 200°C/425 °F hot air mode with steam or 220°C upper and lower heat.

If you want to add toppings to your focaccia then you'll have time now. Decorate your foccacia bread as you like. Make sure to push the toppings into the bread. It will look nicer and they won't fall off.

Bake for 20 – 30 minutes until the foccacia is golden on top.

There's nothing like a warm foccacia straight from the oven. Just make sure to let it cool down a bit before you enjoy it. Buon appetito!
Notes
You can also use all purpose flour (Austria: type 700, Germany: type 550) for this recipe but you'll get best results with type 00. I tried and tested it.

Did You Try This Recipe?
Leave a comment below or share your photos about the recipes that you made on Instagram tagging @traveldreamfairy and #wecookaroundtheworld. I can't wait to see your posts!